Another year of dance at Freestyle Dance Academy, and another exciting "National Dance Week" photo contest! The 2016 race was a close one, but with 32 total Likes on the Freestyle Dance Academy Instagram page, the photo above, submitted by FDA dancer Lauren, is the "2016 Most Loved Dance Photo." Congratulations Lauren! We had such a blast celebrating dance by seeing all of the dance class, performance, and fun memories everyone had to share for National Dance Week 2016.
Freestyle Dance Academy hip-hop teacher, Ms. Ali, took home the crown for "Most Spirited," by entering 9 total photos into the contest. Freestyle Dance Academy received entries from dancers, parents, family members and friends. We loved seeing how many people were getting excited about the pictures on the Instagram page. With new Likes happening each day on the account, it was a thrilling race to the end. Check out some of the highlights from the 2016 National Dance Week Instagram Challenge below: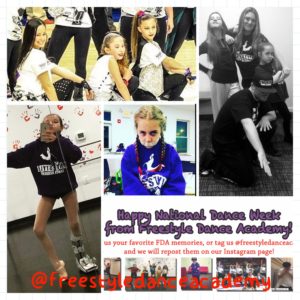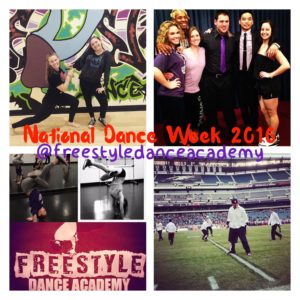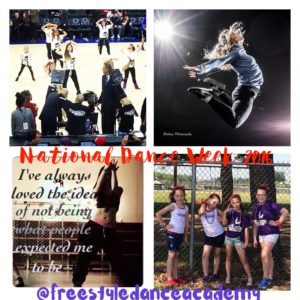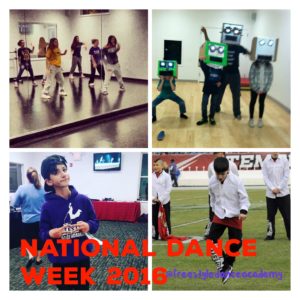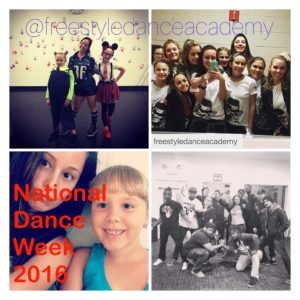 Thank you again to everyone who participated in our annual National Dance Week Instagram Dance Challenge at Freestyle Dance Academy. It is always such a great way to relive some of our favorite dance memories with our dancers! Check out all of the photos that were submitted by searching for Freestyle Dance Academy on Instagram.
Freestyle Dance Academy on Instagram.
Freestyle Dance Academy on Facebook.
Lauren, who was this year's photo contest winner, is also a member of the Class of 2016. Check out her Freestyle Dance Academy Senior Spotlight here.