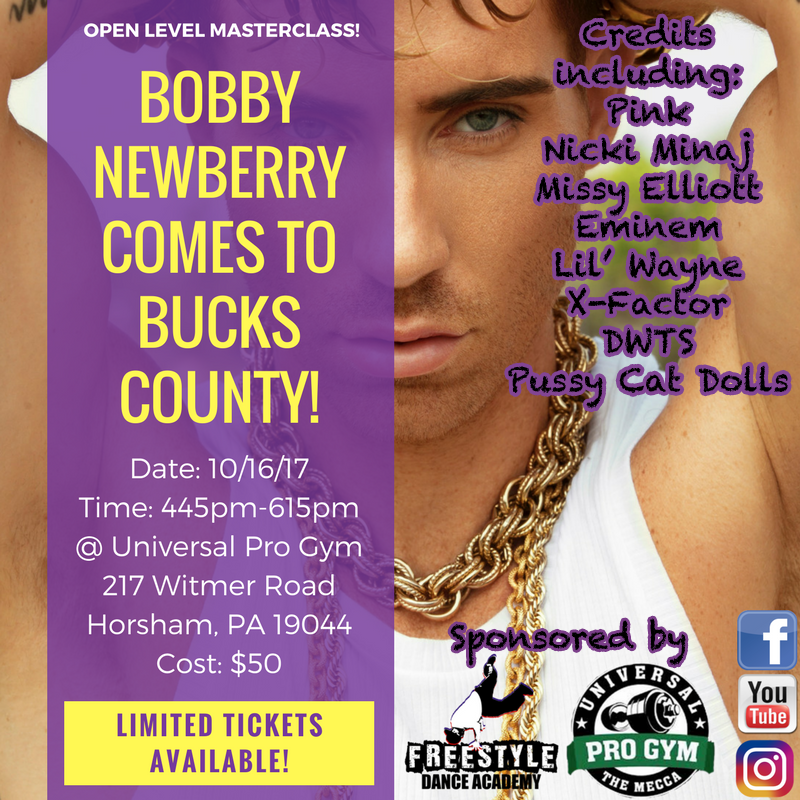 International Choreographer Bobby Newberry is coming to Philadelphia & Bucks County, PA! The world-famous dancer, choreographer & musical artist will be teaching a masterclass on Oct. 16th 2017, from 4:45pm – 6:15pm, in the dance fitness room at Universal Pro Gym, sponsored by Freestyle Dance Academy.
CLICK HERE TO ORDER YOUR TICKET NOW
This masterclass is an Open Level class for all aspiring Bucks County & Philadelphia area dancers. Bobby is coming all the way from L.A., so come out and show Bobby Newberry some Philadelphia style love! Some of Bobby's professional credits include: Pink, Nicki Minaj, Dancing With The Stars, X-Factor, Eminem, Lil' Wayne, The Pussy Cat Dolls, Eva Longoria for Bebe, Missy Elliott & more. Bobby is also a frequent teacher at Millennium Dance Complex in Los Angeles, and Broadway Dance Center in New York City.
Voted Best of Bucks for Dance Studio in 2015, 2016 & 2017, Freestyle Dance Academy provides high-quality dance education to the Warrington, Chalfont, Doylestown & Lansdale communities. The dance studio is located at 341 Lower State Rd, Chalfont, PA, on the grounds of Camp America Day Camp. Dance classes are offered in various dance styles including: hip-hop, jazz, breaking ("breakdancing"), ballet, tap, and more. Freestyle Dance Academy also has a performance group, known as The Company, which appears around the Philadelphia region, and provides young performers with a place to grow and learn, while preparing them for their professional journey.
Watch Bobby Newberry on Youtube