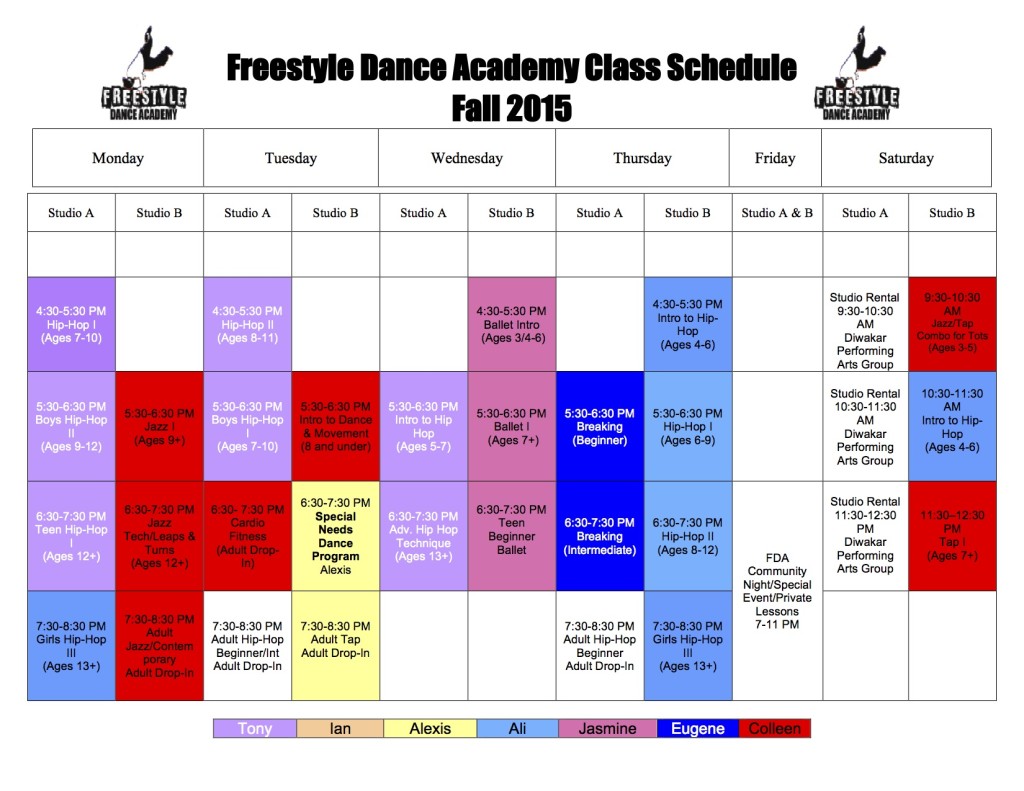 Fall 2015 dance class registration is OPEN at Freestyle Dance Academy! Take a look at the dance schedule for the 2015/2016 dance season, as Freestyle Dance Academy has added some new dance classes, including a few classes on Saturdays. Styles of dance offered at Freestyle Dance Academy include: hip-hop, bboy/bgirl (breakdancing), ballet, tap, jazz, fitness, special needs, and dance classes for toddlers.
To view the class schedule, or for information on tuition pricing, click here. Registration can be completed online, and tuition is due the first week of dance classes at Freestyle Dance Academy.
Click Here to Register Online for Dance Classes
If you have any questions about dance classes, dancer placement, etc. please call the dance studio at 215-822-6313, or email us at freestyledanceacademypa@gmail.com.
Freestyle Dance Academy offers a FREE trial dance class to all new dancers, to give them the opportunity to experience a class before completing their registration. If you are interested in scheduling a trail dance class, click here.
Freestyle Dance Academy also offers drop-in ("Pay as You Go") dance classes for adults. These class options include: hip-hop, jazz/contemporary, tap & fitness.
Freestyle Dance Academy is also excited to announce the continuation of our Dancers Exceeding Expectations dance program, which focuses on dancers with special needs. To find out more about the DEE program, click here.
Freestyle Dance Academy is located at 341 Lower State Road, Chalfont, PA 18914, on the grounds of Camp America Day Camp. Click here for directions to the dance studio. Freestyle Dance Academy proudly provides dance classes for kids & adults in the Chalfont, Warrington & Doylestown communities. Be sure to follow us on all of your favorite social media for FDA updates!
Freestyle Dance Academy Facebook Page
Freestyle Dance Academy Instagram
Freestyle Dance Academy Youtube Page