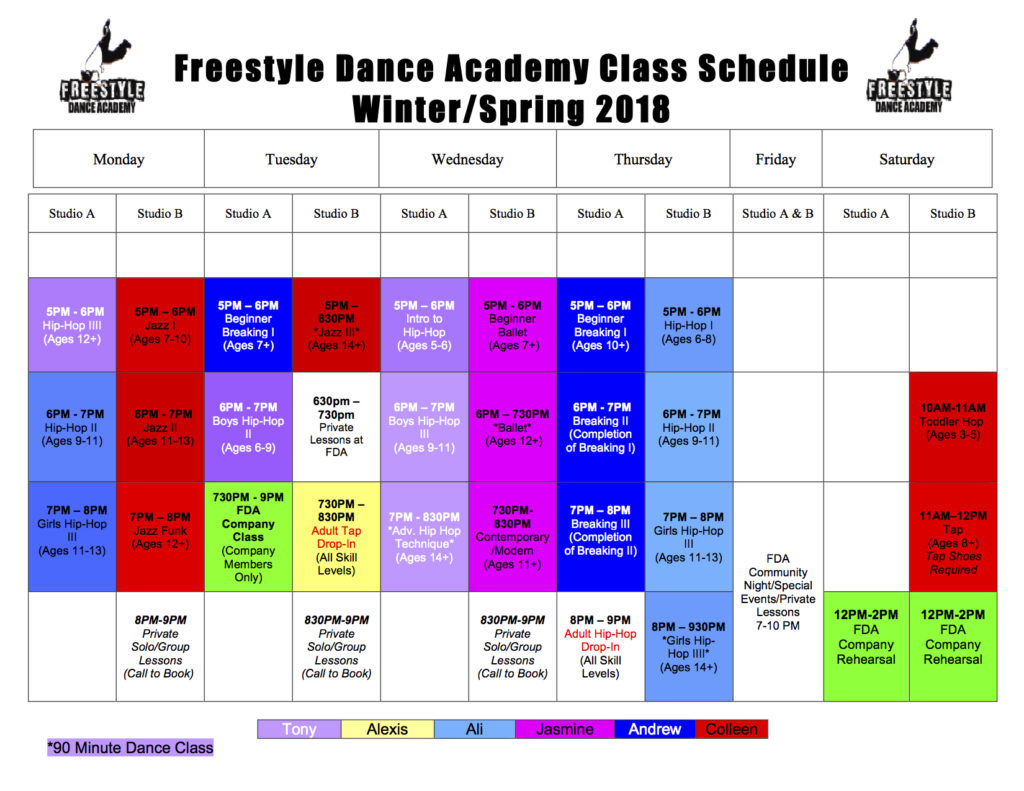 Click Schedule Above to Enlarge
2017/2018 Session Dates
Fall 2017 – Sep. 6th ~ Dec. 22nd
Spring 2018 – Jan. 8th ~ May 20th
*Dance classes maybe combined, or moved, to accommodate enrollment.*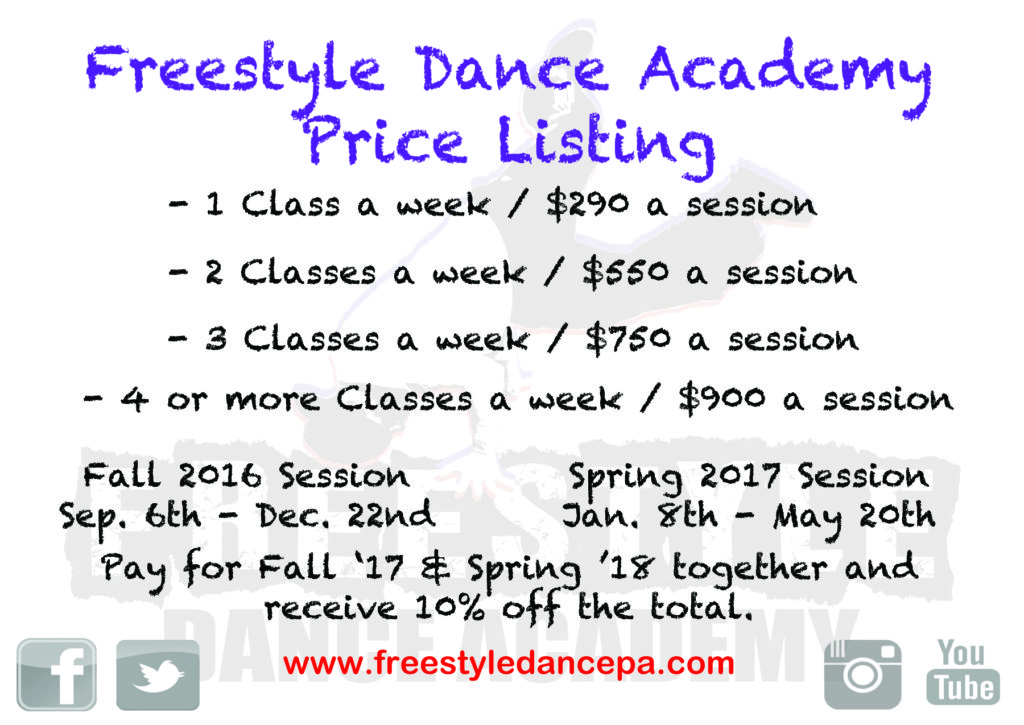 Multiple Dancer Discount Structure
Dancer 1* – Full Tuition Price
Dancer 2 – $25 off 1st Class Tuition, $50 off 2 Classes, $75 off 3 Classes, $100 off 4 or more dance classes.
Dancer 3 – $50 off 1st Class, $75 off 2 Classes, $100 off 3 Classes, $200 off 4 or more dance classes.
*The dancer taking the largest class load will be considered Dancer #1 for each family.
FAQ About Dance Classes at Freestyle Dance Academy
Does Freestyle Dance Academy have a performance at the end of the dance season?
Yes, the dance studio does put on an annual showcase, which features all of the dance classes at Freestyle Dance Academy, along with the FDA Performing Company. While encouraged to participate, recreational dancers are NOT REQUIRED to perform in the annual Freestyle Dance Academy showcase.
Is there a costume/recital fee for my dancer?
NO. There are no upfront costume or recital fees for dancers at Freestyle Dance Academy. At times, the studio will get ideas for costuming for the showcase, and a dancer maybe asked to purchase an item for the performance. Anything purchased by a dancer's family, will belong to the dancer. No costuming items will be approved by the studio without the full consent of all the dancers in that particular dance class.
When is tuition due, and what if I need help with tuition cost?
Dance tuition consists of two payments for the entire dance season (Fall & Spring), and are due at the beginning of each session. While the pricing structure is set for all dancers, Freestyle Dance Academy is always willing to discuss payment plan options with families, in order to allow dance tuition to fit into their financial schedule. Please contact the dance studio if you are interested in discussing an alternative payment option.
Do dancers at Freestyle Dance Academy get to perform?
Throughout the year, there are performance opportunities for dancers at Freestyle Dance Academy. These are not required, but dancers are always invited to participate. For dancers serious about performance experience, the FDA Company represents the dance studio at various events throughout the Philadelphia region. For more info on the FDA Company, and the requirements, click here. Dancer eligibility for public performances may be determined by outside factors, such as requirements & requests placed upon Freestyle Dance Academy by the hosting party. 
Watch Freestyle Dance Academy perform the "King of Pop" Tribute for Temple University, in Philadelphia, PA.