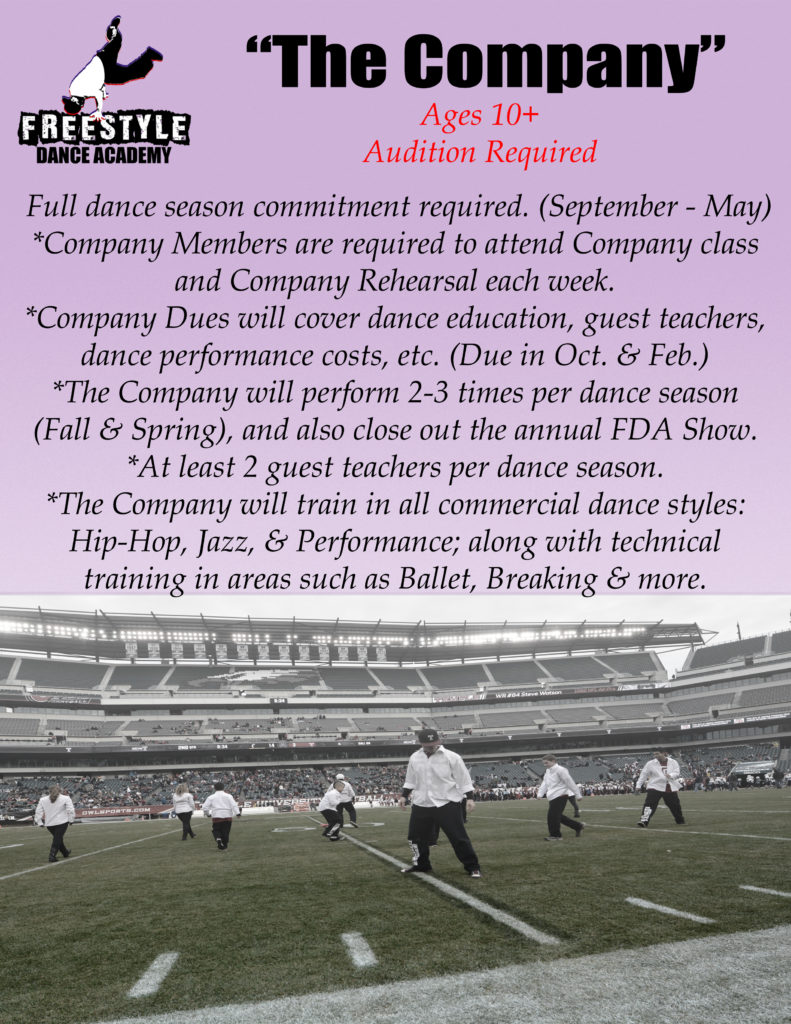 "The Company" at Freestyle Dance Academy will focus on the development of young dancers, who wish to seriously pursue dance at a higher level of education. Dancers in the dance company will be required to learn various styles of dance, perform publicly, and be held to a strict dance curriculum & class/rehearsal schedule. "The Company" will also help them create & develop as individual dancers & artists.
Company dues are required, as well as enrollment in at least one (1) Freestyle Dance Academy dance class during the dance season. Company dancers must be at least ten (10) years of age to train with "The Company." Company dues cover various expenses, from dance education & guest teachers, to performance costs & costuming for dancers. "The Company" dance season runs the entire dance year (September – May), and a dancer must commit to a full season to participate. "The Company" also performs in the annual Freestyle Dance Academy Dancer Showcase.
What Dancers Can Expect with "The Company"
Dancers will train in various dance styles, in order to enhance their overall dance abilities, as well as inspire them to push themselves in their individual classes.
Dancers will learn the performance process, and gain experience in front of public audiences.
Dancers will begin their growth as artists, as they are pushed to create their own movement, and identify with music & dance on a deeper level.
Extra dance training from guest teachers will open dancers up to new personalities & dance styles.
Dancers will be expected to be leaders & role models to other dancers, and in their local community.
Dancers will learn to understand concepts that are important to professional dancers such as conditioning, healthy living, stretching, continued dance education & more.
Dancers will bond as a group, learning teamwork skills, respect, and forging friendships.
Dancers must audition to be accepted into the Freestyle Dance Academy Company. "The Company" rehearsals/classes will be held on Saturdays from 12pm to 2pm. Dancers are expected to be at company class, unless an excused absence has been approved by the dance studio beforehand. Multiple absences can result in missed performances and/or company status suspension. 
If you are interested in auditioning for "The Company," please fill out the form below: