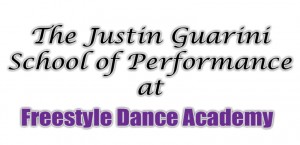 Freestyle Dance Academy is proud to be the home of The Justin Guarini School of Performance. A Doylestown, Pennsylvania native, and Central Bucks graduate, Justin is excited to return to the Bucks County area to teach the rising stars of tomorrow. Justin will be teaching Performance at Freestyle Dance Academy on Monday nights. If you would like more information on pricing, class times, etc. please call 215-822-6313.
Justin Guarini began singing at the age of four, and continued his music education throughout his high school days as he performed with various choirs, including the Philadelphia Arch-Diocese Choir. Justin then went on to study vocal performance, dance and theatrical arts, along with film and television acting, at The University of The Arts in Philadelphia. He starred on the premier season of American Idol, becoming the runner-up behind Kelly Clarkson.
Since his appearance on Idol, Justin has used his versatility to gain experience performing in almost every avenue of the entertainment world. He has played major roles on Broadway, including 'Woman on the Verge of a Nervous Breakdown' and Tony Award winning 'American Idiot.' Justin has also appeared on stage in shows such as 'Rent', 'Ghosts of Darkland County' and 'Chicago.' Justin is also a resident host for TV Guide Network as their American Idol co-host and correspondent. Aside from his various in-studio duties, Justin has also been one of TV Guide's red carpet hosts for special events including The Grammys, The Oscars, The Emmys and more. Disney also brought Justin in to record the pre-show video for the American Idol Experience located at Walt Disney World's Hollywood Studios in Orlando, Florida.
Justin Guarini has toured nationally, and internationally, including with Idols Live! He has recorded two albums, and worked with music legends such as RCA Records and Clive Davis, Sheila E, Micky Dolenz and George Clinton. Justin has also appeared on the movie and television screen in productions such as From Justin to Kelly, Fast Girl, FOX's Run of the House, AMC's Film Fakers, Disney's Wizards of Waverly Place, and CMT's Gone Country. Along with the big screen, Justin has a multitude of web hosting credits and appears as a weekly video blogger for Fancast, Comcast's premiere online entertainment site.
Guarini has also made a plethora of appearances as a guest or performer on programs such as The Oprah Winfrey Show, The Tonight Show with Jay Leno, Good Morning America, The Today Show, Regis and Kelly, Rachael Ray, Chelsea Lately and the Teen Choice Awards. Justin has frequently been invited to appear as a special "Idol" correspondent on programs including Larry King Live, MSNBC News Live, Showbiz Tonight, Rita Cosby, and Fox News Live.
Justin continues to perform around the country in shows, concerts and other productions, and is currently working on recording his third solo album.  He is a passionate believer in music education, and has lobbied on behalf of The International Music Products Association, which seeks to stop the cutting of music education. Justin has spoken before the NAACP regarding the importance of music in schools and is currently involved with the ETM-LA (Education Through Music LA), which funds music programs in disadvantaged schools.
To keep up with Justin, check out his website or follow him on Twitter @justin_guarini