Mr. Long – Breaking
Long Pham's journey through dance began at age 16, while attending North Penn High School in Lansdale, Pennsylvania. Since Long began learning the art of bboying, or breaking, he has never been able to stop moving since. Whether he was practicing his windmills in the school hallways, or performing in the high school talent show, Long's love for dance has always been evident by his constant movement and the enormous smile he has on his face every time he hits the floor.
Long's passion for dance continued to grow as he sought to learn other hip-hop styles besides breaking. Long spent time in Philadelphia learning as a member of "hip-hop university," The Academy of Phresh, led by ABDC veteran Smart Mark. While his main style is bboying, Long also has knowledge in other styles, such as popping and house.
Long has a diverse dance background and has participated in multiple bboy jams, showcases and performances, including the Temple ASA Showcase and Prelude Dance Competition. Long has also been a member of the Cutting Edge Entertainment dancer squad since high school. Long is currently exploring his own style of movement, and creating choreography, as he continues to grow as a dancer. We are excited he has chosen to teach at Freestyle Dance Academy and share his varied skill set with the FDA family. Since he is THE Youtube wizard, FDA fans can find the occasional video of Long up for the world to watch online.
Long has always had an ear for music, even before he started to dance. He is an avid musician and musical lover, who plays the guitar and piano. Rumor has it, Long is also known to be quite the shower singer! This passion for music allows Long to teach his students about musicality and how to listen for unique and subtle elements. His love for the arts does not stop at music, as he is an enthusiastic photographer as well. Long is also a colossal fitness fan. Aside from dancing, he goes to the gym everyday and loves martial arts. Long brings his fitness knowledge into his classroom, as he helps his students to understand their bodies and muscles in order to learn the floorwork, freezes, and tricks that he is teaching them.
When he is not at home with his brothers, teaching at FDA, working at the King of Prussia Mall, or at school studying for his business degree; Long can be found cruising around Montgomery county in his car, which he keeps clean and in prime condition for a spontaneous drive. While serious about his dancing, Long brings this relaxed and laid-back atmosphere to his classes so that his students can freely find their own identity as dancers, just like he has done.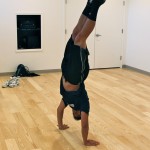 Long's dance video edited by Jordan at www.cuetocuts.com      On Twitter @cuetocuts