Mrs. Kristen – Ballet
Kristen Chynoweth began her formal dance training at the age of eight, studying Ballet, Jazz and Tap. She continued her dance education on scholarship at the former Rock School of the Pennsylvania Ballet, where she studied the Balanchine technique. She also studied at the Pennsylvania Academy of Ballet, where she studied the Vagonova technique. Mrs. Kristen was awarded a scholarship to the prestigious Pennsylvania Governor's School of the Arts and has participated in numerous dance conferences and conventions.
She performed professionally with Opus 1 Contemporary, ContempraDance, and has performed multiple times as a guest in the PA, NJ, NY area. Kristen has enjoyed the opportunity to study at Steps on Broadway, and continues to take class locally at Koresh Dance Studio in Philadelphia. Kristen has taught Ballet and Jazz technique for over 10 years, and believes that dance training not only provides students with the opportunity to learn a valuable art, but to also acquire a deeper understanding of our physical capabilities and stretch our mental and emotional capacities.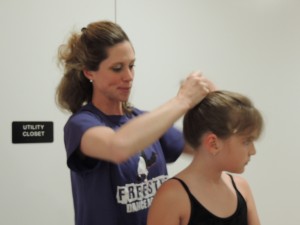 Her former students have participated in American Ballet Theater, Rock School, School of American Ballet, Saratoga Ballet, and Central Pennsylvania Youth Ballet summer programs. Many have also gone on to dance in college and professionally. Kristen proudly holds a BA in Sociology from Rosemont College and believes that dance is one of the most enjoyable ways to learn what it means to give 110%!
Freestyle Dance Academy is lucky to have such a disciplined and talented ballerina, and is excited to have Mrs. Kristen as a pillar of the FDA ballet program.