Ms. Katie ~ Ballet, Pointe, Modern
Katie grew up in the suburbs of Philadelphia, PA and began her ballet training at the age of four. In 2012, she earned her B.F.A. in dance from Temple University, where she studied Ballet, Pointe, Modern, Jazz, Contemporary, and West African. While at Temple, Katie had the privilege of performing in many concerts including the full-length, modern dance ballet Crystallina; which was directed by Kun-Yang Lin and performed as a part of the Philadelphia International Festival of the Arts.
Katie is a former company member of Danse4Nia Repertory Ensemble and Alchemy Dance Company. She has performed professionally as a guest artist with Indigenous Pitch Dance Collective and Janis Brenner Dance Company. Over the years, Katie has also performed the roles of Dew Drop, Snow Queen, and the Sugar Plum Fairy in productions of the Nutcracker. Through workshops and intensives, Katie has trained with LevyDance, Tiffany Mills Company, David Dorfman Dance, Ellenore Scott, Dee Caspary, and Riolama Lorenzo. Katie continues to train in various styles of dance at Koresh Dance Studio in Philadelphia and Broadway Dance Center in New York City.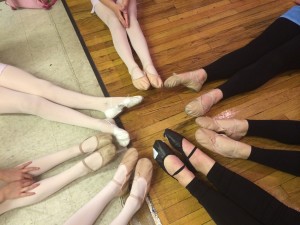 In addition to her work as a dancer, Katie served as a choreographer and ballet teacher for the Montgomery County Community Dance Ensemble. She was also Assistant Artistic Director and Choreographer of Journey, a dance concert performed at the college to raise money for the Audubon YMCA. In the summer of 2014, Katie had the unique opportunity to teach ballet classes in Umlazi, South Africa for students at Zwelibanzi High School. In addition to her dance degree, Katie holds an M.A. in counseling from Biblical Seminary, where she graduated in 2014.
Check out Ms. Katie's entire shoot with Philadelphia Dance Photo Project here.