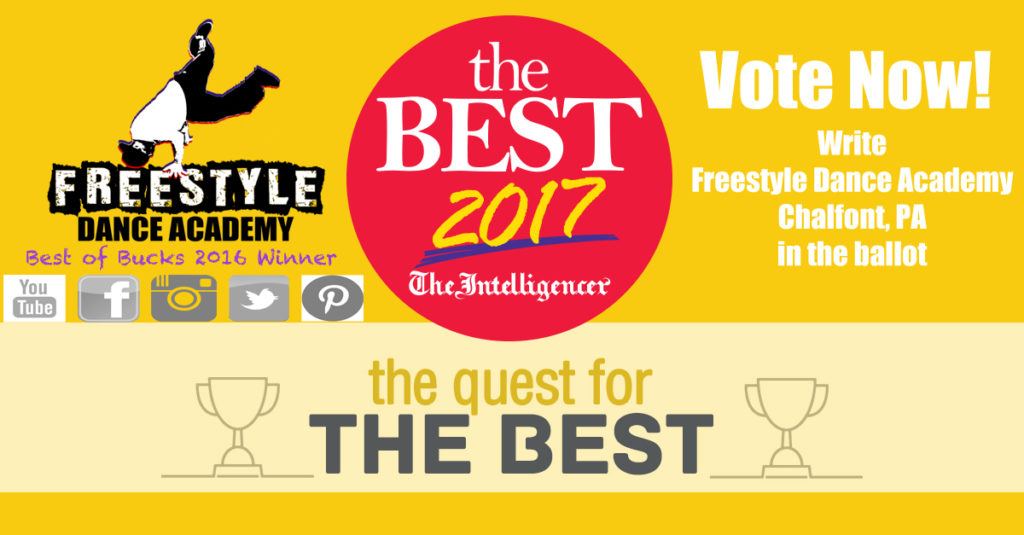 It is that time of year again Freestyle Dance Academy dancers, families, friends and followers! The Intelligencer has opened its annual "Best of Bucks-Mont" voting, including Best of Bucks 2017 Dance Studio, to help spread the word about premiere local businesses in the Bucks County & Montgomery County areas. Last year, thanks to all of the incredible Freestyle Dance Academy supporters, our dance studio was voted "Best Dance Studio" for 2016. We were blown away by the support shown for our dance studio and we want to reach the top once again, but we can only do it with your help. Click here to vote now!
The voting process for the "Best of Bucks-Mont" is simple & straight forward. Click here, or on the link below, and go to the polling website. Select 'Dance Studio' and write-in "Freestyle Dance Academy – Chalfont." You will then need to provide your e-mail address, so that The Intelligencer can verify your vote. Help us spread the good word about Freestyle Dance Academy to the Warrington, Chalfont, Doylestown and Lansdale communities!
Watch Freestyle Dance Academy's "Support the Arts PSA" below:
Freestyle Dance Academy provides high-quality dance education to the Warrington, Chalfont, Doylestown & Lansdale communities. The dance studio is located at 341 Lower State Rd, Chalfont, PA, on the grounds of Camp America Day Camp. Dance classes are offered in various dance styles including: hip-hop, jazz, breaking ("breakdancing"), ballet, tap, and more. Freestyle Dance Academy also has a performance group, known as The Company, which appears around the Philadelphia region, and provides young performers with a place to grow in both performance quality and dance knowledge.
Freestyle Dance Academy YouTube
Freestyle Dance Academy Facebook